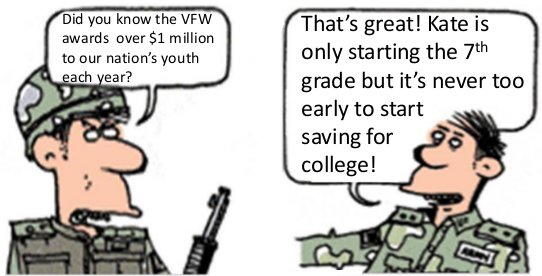 The VFW believes strongly in good citizenship and fostering patriotism. That's why we encourage youthful minds to examine our nation's history and their own experiences in modern American society through the Patriot's Pen youth essay- writing contest.
The Patriot's Pen theme for 2015-16 is: "What Freedom Means to Me."
The Patriot's Pen program is open to students in grades 6-8, who are enrolled in a public, private or parochial high school or home study program in the United States and its territories. Essays must be no less than 300 words and should not exceed 400 words and should be submitted to the Post, along with the completed Patriot's Pen entry form no later than November 1, 2016.
Entry forms, contest rules and judging criteria are available at www.vfw.org.