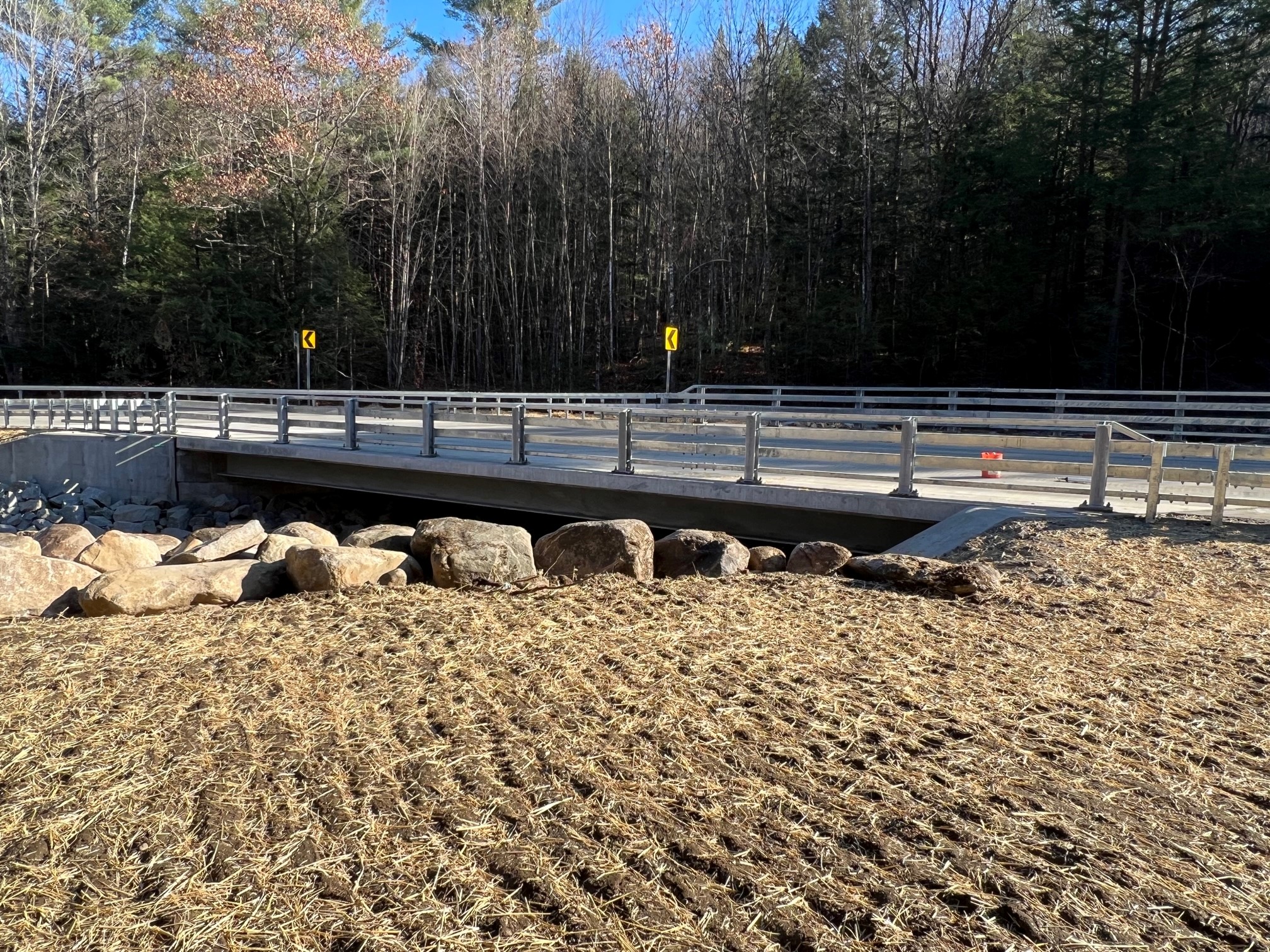 The bridge over Glen Creek on Glen Creek Road in the Town of Johnsburg has reopened as of Friday, November 17, 2023. The new bridge is pictured here.
____________________________________________________________________
DEPARTMENT OVERVIEW
The Department of Public Works is responsible for overseeing all Warren County highway and bridge construction, maintenance of all road machinery and snow removal, as well as managing the following divisions: Floyd Bennett Memorial Airport, Maintenance Shop, Buildings and Grounds, Civil Defense & Natural Disaster, Parks & Recreation, Engineering, Sewer Administration, and Highway & Traffic.
Floyd Bennett Memorial Airport
Inspect airfield facilities daily
Manage contract with Fixed-Base Operator
Manage Federal and State grants for airport capital improvements
Maintain/clean/paint airfield pavements; maintain airfield lighting & electrical services; clean and maintain buildings, septic systems and storm water facilities
Control snow and ice (Note: National Award received for 2002-2003); maintain 699 acres of airport property; maintain associated equipment
Provide emergency response services at the airport
Market the airport to businesses and manage capital development to improve the airport and meet market demand
Facilitate safe transition between aviation operations and events taking place at the airport
Maintenance Shop
Responsible for service and maintenance on all DPW equipment; equipment is maintained at a reasonable level in order to keep it safe and dependable
Preventive maintenance, New York State inspections and repairs are done in-house
Buildings and Grounds
Routine building maintenance
Wood shop - custom millwork and signs
Special projects - office renovations, building repairs, construction, sidewalk/masonry
Seasonal - summer grounds maintenance, winter snow and ice control
Civil Defense and Natural Disaster
STOP-DWI / Traffic Safety - a program for Warren County residents to bring traffic safety issues to the attention of the Board of Supervisors and the NYS Department of Transportation. Also administers National Safety Council's Defensive Driving Course to County Employees. (The Coordinator's salary is partially funded by this program)
Office of Natural Disaster & Civil Defense - works with the State Office of Emergency Management to coordinate planning, response and mitigation in the event of a catastrophic incident; works to comply with State and Federal mandates. (The Deputy Director's salary is partially funded by State and Federal funds)
Local Emergency Planning - mandated by State Archives and Records Administration Title III Regulations; meets with private industry, County departments, fire, police, etc. to ensure that hazardous materials are maintained and safely used, and incidents correctly managed
County Department of Public Works Safety Officer - works to ensure that DPW employees have proper training and equipment; works to make sure the County is in compliance with PESH (Public Employees Safety and Health) standards
Parks & Recreation
Warren County Bikeway - 12 miles of trail from Lake George to Glens Falls;
Warren County Fish Hatchery Complex - Hatchery operations & visitor complex; 
Warren County Fairgrounds - maintain and operate facility;
Warren County Railroad - administration of railroad operations;
Up Yonda Farm Environmental Education Center - administers, operates and maintains educational facility;
Warren County Cross County Ski Trails/Nature Trail Picnic Area - maintains 10 miles of trails;
Canoe Access Sites on Hudson and Schroon Rivers - maintains and operates 8 sites;
Snowmobile Trails - Coordinates trail program with local clubs;
Sheriff's Dock Lake George - maintains dock for lake patrol;
Sheriff's Garage - maintains satellite vehicle garage.
Engineering
Transportation Improvement Program - funding mechanism for local highway projects;
Adirondack/Glens Falls Transportation Council - 
Local Bridge Program - inspect the County's 57 bridges and correct deficiencies;
Permits - Work in County Right-of-way, hauling permits, posted roads, DEC permits involving bulk storage of fuel; 
Lake George Watershed Conference - represents the County in setting up and executing environmental priorities in the Lake George Drainage Basin;
Hazard Mitigation Coordinator - provides assistance on issues involving natural and man-made hazards.
Additional Engineering Services
Environmental review of properties for completion of SEQRA documents;
Environmental engineering for petroleum contamination remediation projects;
Provide guidance, advice and support services to various entities;
Deputy Superintendent serves as Sewer Administrator of the Warren County Sewer District (Industrial Park).
Sewer Administration
Warren County Sewer Project - administer $20,000,000 Federal grant for wastewater improvements.
Highway & Traffic
Repair and upkeep of County Highways and appurtenances on 247.36 miles of highway;
Snow and ice control;
Road construction projects and CHIPs (Consolidated Highway Improvement Program).
Miscellaneous
Inventory of County and Town roads;
Traffic counts and pavement grades;
Right-of-way information;
Engineering designs, survey and inspection of smaller County projects;
Develop specifications for equipment purchases;
Develop and publish bid specifications;
Develop and maintain the DPW web site.