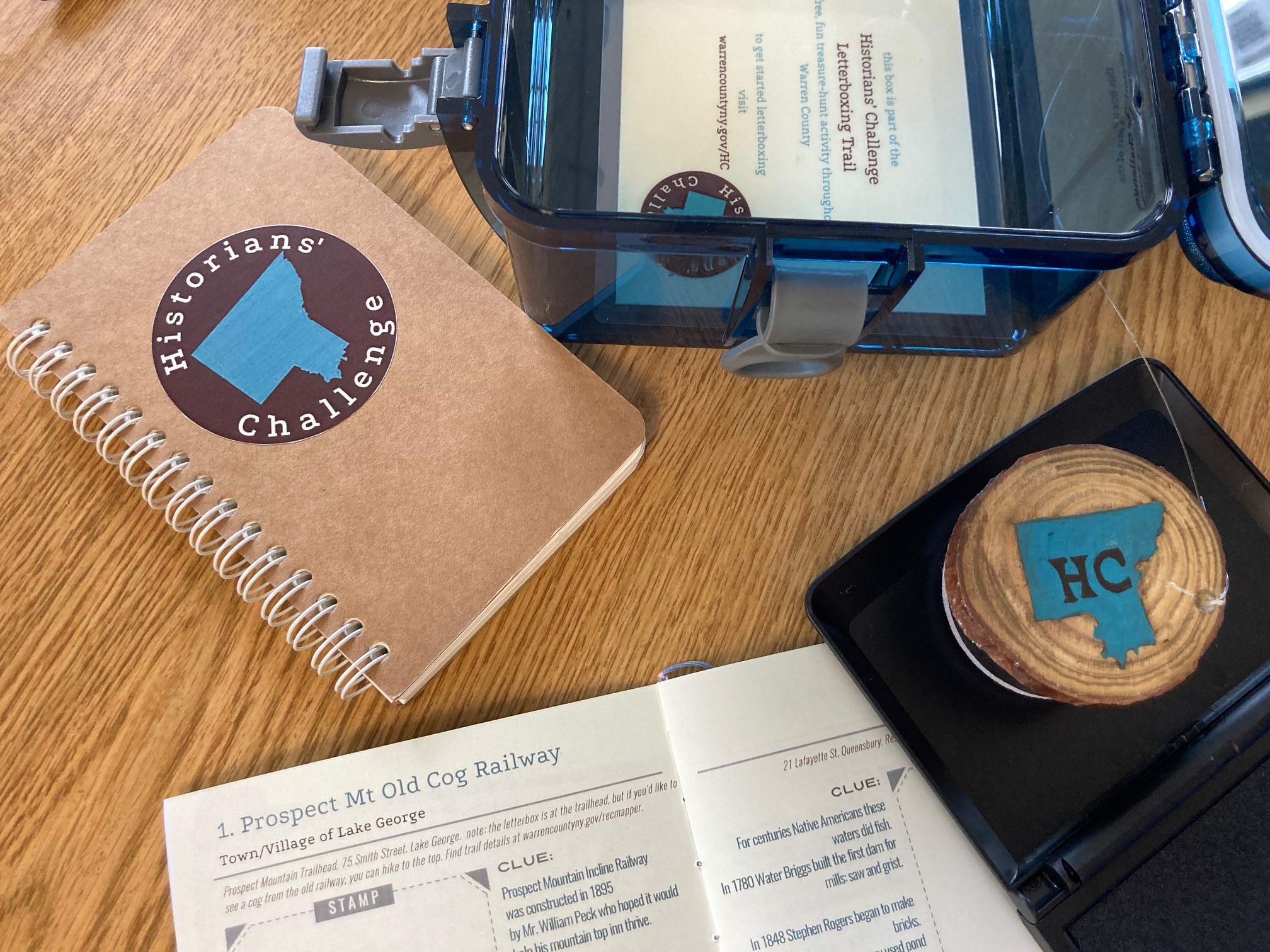 Letterboxing redux: Warren County offers new history-themed Letterboxing challenge
Warren County's first Letterboxing treasure hunt was such a big hit in 2021 that its creators are doubling the fun for 2022!
Warren County Planning & Community Development Department has put the finishing touches on a new Letterboxing challenge, which will take participants to some of the most historic sites in the county while working to solve a riddle about the whereabouts of a famous Warren County poet and journalist, Jeanne Robert Foster.
This new Letterboxing challenge, known as the "Warren County Historians' Challenge," will allow local residents to learn more about Warren County's history while also visiting historic sites and communities in the county they may not have seen.
So how does Letterboxing work?
This growing hobby incorporates orienteering, art and puzzle solving to find hidden treasures and complete a challenge.
The goal is to find specified sites using clues in the form of a riddle. Solving the riddle results in the discovery of a stamp in a weatherproof box to stamp a passport to document completion of the challenge. Submission of the passport to Warren County Planning & Community Development will earn participants a stylish patch, and a feeling of accomplishment!
While the 2021 Letterboxing Challenge in Warren County focused on the First Wilderness Corridor communities of western and northern Warren County, the new Warren County Historians' Challenge includes historic sites in each town in the county as well as the city of Glens Falls. There are 13 sites in all.
(FYI: The 2021 challenge is still live for those who want to try it as well!)
Organizers worked with town historians to come up with riddles for historic sites, as well as an additional riddle that, when pieced together, will yield an answer to the whereabouts of Johnsburg native Jeanne Robert Foster, a famous 19th Century poet, teacher and outdoorswoman. You can learn more about Ms. Foster here.
"Many of the comments we got from participants in last year's First Wilderness Letterboxing Challenge was how much they enjoyed the historical sites, so we decided to take that and build on it for this year," explained Sara Frankenfeld, Warren County GIS Administrator and creator of the Warren County Letterboxing events.
How can you get started on this year's challenge? It's easy!
Pick up a Warren County Historians' Challenge Letterboxing Passport at an area Visitors' Center or Chamber of Commerce, which will include details of the sites. You can also print your own using the instructions at warrencountyny.gov/hc.
In addition, our Letterboxing stamp designers, Gina Martin and Sue Tucker from the Warren County Planning Department, are hosting a free stamp carving workshop this Saturday, July 16th.  You'll learn how to carve your own stamp, as well as bind your own passport using leather binding techniques that have their history in Lake Luzerne's leatherworking past.  Participants will receive instruction, an inkpad, their hand carved signature stamp, hand-bound passports, and a canvas bag to hold their supplies.  All materials will be supplied free of charge.
This event will be held on the lawn of the Kinnear Museum of Local History, 52 Main Street, Lake Luzerne 1-3PM. There is no fee for this event and those attending must be 10 years of age or older. Every half hour a new class will begin; 1PM; 1:30PM; 2PM; and 2:30PM.
Although there is no cost to participate, we ask that you make a reservation to assure there are adequate supplies and to schedule arrival time. Please make your reservation by calling 518-403-4042 and let Sue know are coming.
Making your own letterboxing passport is sponsored in part by the Hadley-Lake Luzerne Historical Society and the Warren County Planning Department.
So get out and learn more about Warren County while seeing some of the best scenery in the Southern Adirondacks!